A Colorado LLC operating agreement is a form that outlines the ownership, management, and operating procedures for a limited liability company (LLC). While the State of Colorado does not require LLCs to file operating agreements, these are essential documents in cases of conflict, dispute, and legal action. The agreement can also protect members' personal assets from claims lodged in court. Each member is advised to keep a copy on file.
By Type (2)
---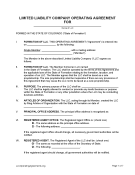 Single-Member LLC Operating Agreement
---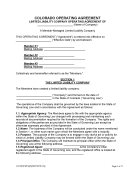 Multi-Member LLC Operating Agreement
---
How to Form an LLC in Colorado
Filing fee: $50 
Processing time: Immediately for online filings, 7-10 business days for paper filings
1. Choose a Name
Use the True Name Availability Search function by clicking here, then entering the name under consideration. If the name appears as not available, then it is already registered with the Secretary of State. C.R.S. § 7-90-601 requires that entity names are distinguishable from other entity names.
2. Choose an LLC Type
Domestic LLC – For an LLC located within Colorado.
Online Filing – Follow the prompt, then click next to reach the following prompt. In Colorado, filing a paper form is not an option.
Foreign LLC – For an LLC located outside Colorado.
3. Post-Formation
Once the paperwork has been processed, the next steps are to complete the following forms:
Name Reservation
If the Secretary of State determines that the desired name is available, the name is reserved for the applicant's exclusive use for 120 days (C.R.S. § 7-90-602).
Periodic Report
Filing fee: $10
If a periodic report is not filed annually, the company may become delinquent (§ 7-90-501).
File the periodic report electronically by clicking here and entering the 11-digit ID number or name in the search field. Click here for search tips. Navigate from "Summary" to "File a form" and select "File a Periodic Report" beneath "Documents Available for Filing." Visit this page for instructions on filing a periodic report. Visit this page for more information.
Dissolving an LLC
Filing fee: $10
An LLC can be terminated through the filing of a statement of dissolution (§ 7-90-908).
Online Filing – A statement of dissolution must be filed electronically. Enter the company name or ID number here. Navigate through the prompts until it is possible to select Dissolve or Withdrawal, then follow the instructions and pay the $10 filing fee.
Statutes
"LLC Operating Agreement" Definition
"Operating agreement" means the operating agreement of a domestic limited liability company or the functionally equivalent document of a foreign limited liability company.